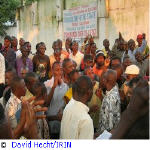 KINSHASA, 12 Jun 2006 (IRIN) - Thousands of Congolese on Monday took to the streets of the capital, Kinshasa, to demand negotiations that would see the main opposition party included in the country's electoral process. The demonstration came a day after a United Nations Security Council delegation arrived for a visit.

At one point, police shot into the air to disperse the protestors when they became violent, stoning vehicles and buildings. Most of the demonstrators were supporters of the Union pour la democratie et le progres social (UDPS), which is led by veteran politician Etienne Tshisekedi and is boycotting the 30 July elections.

The demonstration was held as members of the UN Security Council, led by the French ambassador, Jean-Marc De La Sabliere, held talks in Kinshasa with government officials and diplomats who are members of the Comite international d'accompagnment de la transition (CIAT), as well as with representatives of UN agencies, the World Bank and NGOs. The UN team is scheduled to end its visit on Monday.

"We want to remind the Security Council of its promise made on 5 November [2005] do everything to ensure truly inclusive elections in this country," said Joseph Mambanga, one of the demonstrators and a supporter of Tshisekedi.

Following the signing of a peace agreement to end civil war in the Democratic Republic of Congo in December 2002, a transitional government was formed. The transitional period, which was to have ended on 30 June, was extended by the electoral commission by one month to facilitate the holding of general elections, a move the UPDS has opposed.

A UDPS spokesman, Denise Lupeto, said the extension of the transitional period beyond the 30 June deadline was illegal. He added that preliminary negotiations between the government and the UDPS should have been held to ensure the party's inclusion in the Independent Electoral Commission as well as in a media regulation commission.

In December 2005, during a referendum on the country's constitution, Tshisekedi urged UDPS supporters to boycott the vote. However, in early 2006, he announced that he was ready to take part in the electoral process but only on condition that voter registration would be extended to enable his supporters to enrol, and for his party to be included in the electoral commission and the media regulatory body. However, the electoral commission went ahead with its calendar without taking the UDPS' demands into consideration, prompting Tshisekedi to announce once more that the UDPs would boycott the parliamentary and presidential elections.

A total 33 candidates are contesting the office of president, while at least 9,000 parliamentary candidates are vying for seats in the 500-member parliament.