VOA News | Published on July 30, 2009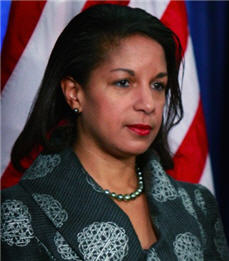 The U.S. Ambassador to the United Nations says the U.N. peacekeeping force is stretched to the limit, and needs more support and supervision. Ambassador Susan Rice told the House Foreign Affairs Committee that peacekeeping helps protect the United States and other nations. Rice is urging Congress to support peacekeeping, despite sexual misconduct by a few members of the force.

From the civil war in Congo, to the conflict in Haiti, United Nations peacekeepers are deployed to protect people caught in conflict and promote peace.

These troops come from U.N. member nations and serve under the United Nations' command.

But the Chairman of the House Foreign Affairs Committee, Howard Berman says the U.N. force is ineffective.  
"From Congo, to Bosnia, to Darfur, peacekeepers have been unable to prevent the use of rape as a weapon of war and even genocide," Berman said.

Ambassador Susan Rice says peacekeeping efforts have grown, severely straining the U.N. In six years, the number of troops assigned to peacekeeping around the world has almost tripled. Currently, 93,000 peacekeepers are deployed to 15 different war zones. Ambassador Rice says conflicts in Africa are especially challenging.

"U.N. officials have been the first to acknowledge that it has been difficult to generate recruits and deploy the numbers of personnel required while keeping quality high and ongoing improvements on track," Rice said.

Between the missions in Sudan and the Democratic Republic of Congo, U.N. commanders are still waiting for 6,000 additional troops.

Some U.N. personnel have been involved in sexual abuse of women and children, which is a deep concern for Congresswoman Ileana Ros-Lehtinen. 
"To allow the operational failures and the unconscionable acts of misconduct that comes to plague the U.N. peacekeeping operations to go unchecked undermines the credibility of the U.N.," she said.

Ambassador Rice said there are now teams of investigators in areas like Congo and Sudan to look into allegations and remove any UN personnel who commit crimes. 
"While abuses occur by peacekeepers," Rice noted, "there does need to be accountability which is why we have been so supportive of the U.N.'s zero tolerance policy."

In the midst of challenges, Ambassador Rice emphasized the importance of the U.N. peacekeepers to America's security. 
"It is preventing conflict zones from being exploited as they often are by extremists by criminals where they can become breeding zones for disease and other transnational security threats," she said.

In 2009 the U.S. is contributing $2.2 billion to U.N. peacekeeping efforts. That is more than a quarter of the $7.75 billion price tag for U.N. troops and police.

Ambassador Rice said she is pushing the U.N. to expand and improve the peacekeeping force, speed up troop deployments, and find better ways to protect the most vulnerable victims of war.