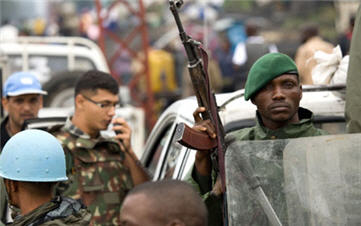 The United Nations peacekeeping mission in the Democratic Republic of the Congo (DRC) and the Congolese military (FARDC) have agreed to strengthen their joint operation against illegally-armed groups in the vast African nation's far east,a UN spokesman said here on Monday.
Deputy UN Spokesman Farhan Haq said that Alan Doss, the UN secretary-general's special representative, visited the provinces of North and South Kivu over the weekend with the Congolese defense minister and other senior officials to assess the progress of a campaign against the notorious ethnic Hutu militia, known as the Democratic Liberation Forces of Rwanda (FDLR).
"The two sides agreed to strengthen the planning and execution of their military and other joint tasks," Haq said.
At the same time, the UN mission, known as MONUC, and the FARDC discussed improvements in the protection for civilians in the area, as well as the disarmament and repatriation of the militia, Haq said.
Haq also said that MONUC has welcomed the 30-year sentences handed down last Friday by a Congolese military court to five militia fighters found guilty of a spree of rape and other sexual crimes. The five men were also sentenced to pay financial damages to their more than 135 female victims.
He added that the UN mission assisted with the investigations and monitored the trial to ensure it complies with international standards.
MONUC, a French acronym for the Mission of the United Nations Organisation in the Democratic Republic of the Congo (DRC)), is a UN peacekeeping force in the DRC which was established by United Nations Security Council in November 1999 to monitor the peace process in the African country.