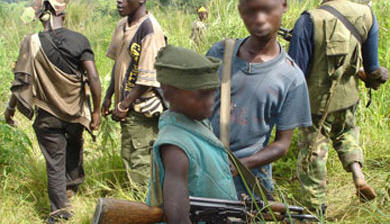 The UN Children's Fund (UNICEF) on Wednesday joined the call of UN Secretary-general Ban Ki-moon for an end to the recruitment and sexual exploitation of children by armed groups in theaters of conflict.
The secretary-general made the appeal at an open Security Council discussion of his annual report on Children and Armed Conflict.
"Millions of children around the world continue to be impacted by armed conflict," said Ann M. Veneman, the UNICEF executive director. "Adherence to international humanitarian law and respect for children's rights must be strengthened."
The secretary-general's report, in special annexes, identifies parties that recruit children in violation of applicable international law. This latest report recommends that groups that perpetrate sexual violence and other grave violations against children also be named in the annexes of future reports.
Grave violations, as defined in the report, are recruitment and use of children, killing and maiming of children, rape and other grave sexual violence, abductions, attacks on schools and hospitals, and denial of humanitarian access to children.
While the report notes progress in releasing children from armed groups and armed forces, such as the release of more than 1,200 children by armed groups in North Kivu, the Democratic Republic of Congo, since the start of 2009, and of 342 children by armed groups in Burundi, it also documents violations by 56 parties to conflicts in 20 countries.
The report includes descriptions of incidents in the 20 countries. In the Democratic Republic of the Congo, for example, the Lord's Resistance Army has expanded its operations across various borders in the region and has abducted 300 children since November 2008. Attacks on schools are now frequent occurrences. In Afghanistan, teachers and particularly girl students have been targeted.
 "In places like Afghanistan, schools have been attacked and teachers and particularly girl students have been targeted," Veneman said. "Children remain the victims of wars of adults."
UNICEF supports national child protection systems and conducts interventions such as interim care for released children, medical and psychosocial support, family reunification and reintegration, support for survivors of sexual violence and actions to strengthen national justice system and legislation relating to children.
UNICEF is on the ground in more than 150 countries and territories to help children survive and thrive, from early childhood through adolescence. The world's largest provider of vaccines for developing countries, UNICEF supports child health and nutrition, good water and sanitation, quality basic education for all boys and girls, and the protection of children from violence, exploitation, and AIDS.