Joseph Kabila appoints Adolphe Muzito as new Prime Minister

By Congo Planet | Published on October 10, 2008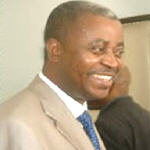 Adolphe Muzito

President Joseph Kabila named Adolphe Muzito as the new Prime Minister on Friday in a decree read on state television. He had been the Minister of the Budget in the government led by Antoine Gizenga until the former Prime Minister resigned last month.

Like Antoine Gizenga, Adolphe Muzito is from the PALU political party which formed an alliance with Joseph Kabila before the second round of the 2006 presidential elections. Members of the coalition had urged president Kabila to choose the new Prime Minister from the PALU to keep the coalition from unraveling.

Adolphe Muzito faces the difficult tasks of bringing lasting peace to the eastern part of the country, fighting corruption in public institutions, and tackling social unrest which has led to strikes by state doctors, nurses, teachers and customs agents in different parts of the country.