MONUC | Published on January 02, 2008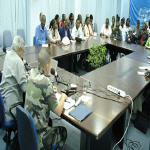 At its weekly press conference of 2 January 2008, MONUC stated that DRC Armed Forces (FARDC) battalions were transported by helicopter in the past week to North-Kivu to ensure the security of the Goma peace conference, envisaged for 6 January. The mission also supplied isolated FARDC units, and those wounded were evacuated to Goma.

"As a component of the planning of security related to the organisation of the Goma conference, FARDC battalions were transported by helicopter to improve the defence of Masisi and Katale," indicated the interim MONUC military spokesperson Colonel Samba Tall.

Also in North Kivu, the surrender of Nkunda dissidents at MONUC bases was recorded, in spite of sporadic clashes between the patrols of the various belligerents.

"One Nkunda colonel surrendered at Kitchanga mobile operational base with his wife, who has the rank of major, and all were sent to brassage* on 26 December. Two other officers and a warrant officer went to MONUC on 21 December and will follow the same process of integration at the conclusion of the preliminary formalities of DDR," explained Col.Tall.

In Ituri district in north-eastern DRC, 10 militants of the Ituri Patriotic Resistance Front (FRPI) surrendered in Bavi and were sent to brassage to form part of the 13th FARDC integrated brigade.

"Sensitising and monitoring efforts continue to target the residual armed groups, whose 25 members have already been identified in Kwandroma," he added.

Meanwhile in South Kivu, in order to improve the security of the population and to aid humanitarian support for those displaced, joint FARDC-MONUC patrols were intensified, and meetings are regularly held with the local authorities. In parallel, the negotiations are very advanced to transport the Mayi-Mayi of the Zaboloni faction to brassage.

* Brassage is a military process whereby ex combatants from armed groups in the DRC are retrained to form part of the integrated brigades of the DRC Armed Forces (FARDC).