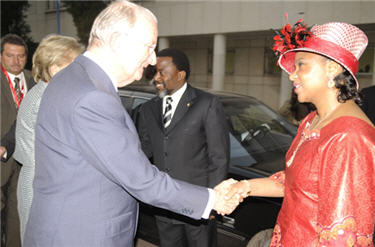 King Albert II arrived in Kinshasa on Monday to take part in the celebrations marking the 50th anniversary of the Democratic Republic of Congo's independence from Belgium.
King Albert II was greeted upon his arrival at Kinshasa's Ndjili airport by Prime Minister Adolphe Muzito, Foreign Minister Alexis Thambwe Mwamba and the governor of Kinshasa, Andre Kimbuta Yango.
President Joseph Kabila later met with King Albert II for 45 minutes at his official residence, the Palais de la Nation.
King Albert II, who is accompanied by Queen Paola, will visit on the sidelines of the June 30th festivities, the King Baudouin Hospital in Masina, the National Institute of Vocational Preparation (INPP), and the Chanic naval shipyard, fruits of Belgian cooperation.

On the web: Congo News Agency | Excerpts from ACP articles