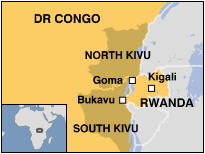 On Sunday, the Ecumenical Program for Peace, Conflict Transformation and Reconciliation (PAREC) convinced 54 rebels of the Democratic Front for the Liberation of Rwanda (FDLR) and fifty of their dependents to disarm.
PAREC says it has recovered more than 6,400 weapons since the launch in March of its program "$50 for a Firearm".
In a press briefing last Friday in Rutshuru, Pastor Ngoy Mulunda, the head of PAREC, explained his NGO's approach to the relocation of the FDLR.
"Our aim was not the FDLR, but the weapons. The population complained that they were being asked to disarm while the FDLR were keeping their weapons and therefore still able to attack them. This prompted me to contact the rebels. On April 1, I met Colonel Soki. He said he agreed with the relocation, provided we would not take them to Rwanda ", he said.
PAREC says the program will continue this week in Lubero, where other FDLR rebels are ready to surrender.

Radio Okapi article | On the web: Congo News Agency