ICRC | Published on April 16, 2010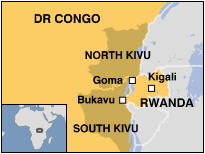 The eight staff members of the International Committee of the Red Cross (ICRC) held since 9 April by an armed group operating in South Kivu province were released today in the Fizi area and handed over to ICRC personnel. The ICRC team received logistical support from the United Nations Organization Mission in the Democratic Republic of the Congo.
"We are relieved and happy to have our eight colleagues back, in good health. Their return marks the end of a series of long, hard days, not only for them but for their families and friends," said Franz Rauchenstein, head of the ICRC delegation in the Democratic Republic of the Congo. "We would like to express our deep gratitude to all those who have lent us their support over the last few days."
The seven Congolese and one Swiss national were stopped in Kananda after completing an assessment of the needs of displaced people in the area.
The ICRC has been working in the Democratic Republic of the Congo since 1978. In close cooperation with the Red Cross Society of the Democratic Republic of the Congo, it endeavours to protect and assist the victims of armed conflict and other situations of violence. The ICRC's operation in the country is among its largest in the world.