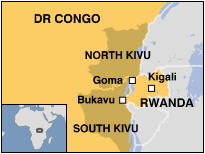 The French ambassador to the Democratic Republic of Congo (DR Congo), Pierre Jacquemot, announced on Tuesday that there will be a meeting in June to mobilize funds for the Economic Community of the Great Lakes Region (CEPGL) to support Rwanda, Burundi and DR Congo.
The French diplomat declared this in Kinshasa during an opening ceremony of a seminar of government experts, which was to discuss the validation of basic agreements and the restructuring of CEPGL.
According to Jacquemot, France holds the opinion that regional cooperation would bring about lasting peace for the benefit of the local populations, especially during this post-conflict period.
The present meeting is pursuing three objectives, including a basic law to support CEPGL, measures to support the promotion of commercial exchanges and free movement of the populations and their goods, and a proposal for the restructuring of the permanent executive secretariat for CEPGL.
CEPGL is a sub-regional organization created in September 1976 for the economic integration and facilitation of movements of goods and people within the Great Lakes countries of Burundi, DR Congo and Rwanda.
In 1994, the Burundian conflict followed by the Rwandan genocide plunged CEPGL into a crisis. In 1996, all the agreements were suspended after attacks in DR Congo by the Alliance of Democratic Forces for Liberation and the Rwandan Patriotic Army. In 2004, the three countries started discussions on modalities of reactivating CEPGL.