A new survey says that most British diamond retailers are not doing enough to combat trade in diamonds smuggled from war zones. For VOA, Tendai Maphosa has more from London.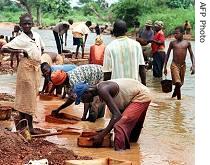 People look into their sifter to find a diamond stone, in Tortya, Ivory Coast

Amnesty International UK and Global Witness surveyed 42 top British diamond retailers and found that nearly 80 percent of them have no auditing procedures to combat the trade in so-called conflict diamonds.

Of those surveyed, almost a third failed to provide information about their policies regarding conflict diamonds despite repeated requests. And, 62 percent did not post any information on their Web sites about their policies on conflict diamonds.

The survey's findings were released amid reports of continued smuggling of diamonds from West Africa to the international market.

In 2003, the diamond industry signed the Kimberley Process (KP) agreement. Its aim was to fight the growing illicit trade and to prevent smuggled diamonds from fueling wars. The industry agreed to provide guarantees on the origin of all diamonds traded or sold to show that they did not come from conflict zones.

The report says trade in conflict diamonds has fueled devastating civil wars in Sierra Leone, Angola, Democratic Republic of the Congo and Liberia in which four million people died.

Global Witness spokeswoman Annie Dunnebacke said the Kimberley Process still has significant loopholes which need to be closed.

"We call on governments to increase their monitoring of the diamond industry, but very importantly we are also calling on the industry to strengthen its own system of controls. The industry has a great deal of responsibility and individual retailers they do have a responsibility to source their diamonds responsibly because they owe it to the consumers," she said.