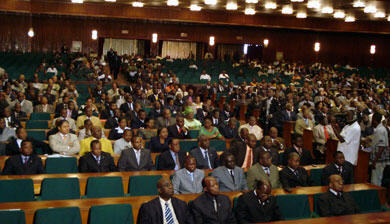 A four day training workshop is underway for DRC National Assembly deputies from May 21 to May 25 2007, at the Palais de Peuple in Kinshasa. The project, which is organized by the UNDP in conjunction with national and international partners, aims to further parliamentary knowledge of deputies in order to enhance the operational capacity of the National Assembly.

At the inauguration of the workshop on Monday May 21 2007, UNDP Representative Ross Mountain, who is also UN Deputy Representative to the Secretary General in the DRC, said that 'the general objective of the information and orientations days is to contribute to consolidate the basis of the new political system in the Democratic Republic of Congo.'

"It is searching for the good functioning of democratic institutions and to ensure a good understanding of the different functions between the political institutions, so that each assumes his responsibilities in transparence and equity in conformance with the law," he explained.

"This new period resembles the most useful moment to redefine relations, links and communication between the political authorities and the citizens. In this way, one and all can explain their real development needs. The national and provincial deputies are key in this dialogue," he added.

Specifically, throughout the four day workshop, an effort will be made to reinforce the knowledge of deputies on the DRC constitution and will examine questions on diverse topics such as:

The political structure, the structure of the state, the division of power and decentralization;

The parliamentary statute in relation to rights, obligations, immunities, salaries and other advantages for deputies;

The parliamentary work, in the triple functions of legislation, control and representation.

This activity is piloted by the UNDP project - Support to the Institutions of the Transition- but it is also organized and prepared conjointly with numerous technical and financial partners, both national and international, including DFID (UK), the National Democratic Institute, USAID, Canada, the University of Liège, and the Konrad Adenauer Foundation from Germany.