UN News Centre | Published on July 27, 2006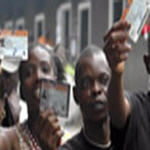 26 July 2006 - Affirming that security forces of the Democratic Republic of the Congo (DRC) have been routinely abusing journalists and other civilians since the start of its election campaign, the United Nations mission in the country (MONUC) calls for a guarantee of free speech and an end to impunity in a report released today.
"The routine use of physical violence against civilians, including summary executions, beatings and rape… is reported wherever the army is deployed," according to the survey of the human rights situation in the DRC covering the period January through June, which calls for "zero tolerance for violations by the military."
In the report, MONUC notes a significant increase in the number of violations linked to campaigning for Sunday's vote, including arbitrary arrest, illegal detention or violence by police against participants in demonstrations.
The Congolese army, the mission says, is responsible for more than half of the reported 369 cases of abuse, including the arbitrary killing of civilians accused of complicity with militias in the eastern Ituri district.
In the fight to bring to justice those responsible for such acts, MONUC sees some positive developments, including several prosecutions and a referral to the International Criminal Court (ICC), but expresses concern over increasing political and military interference in military justice, and a "stalemate due to the lack of will and capacity" among the Congolese authorities.
Among its recommendations, MONUC proposes the posting of high level military judges in areas where human rights violations are being perpetrated, as well as clear, separated roles and stepped-up training for police, military and security forces.
The mission also proposes measures to guarantee the right to freedom of expression and association, including in-depth investigations of intimidation. Alarmed that not a single presidential candidate to date has addressed human rights issues on the campaign trail, it urges political parties to call for tolerance, respect and non-violence before and after next week's vote.
In another development related to Sunday's vote, the UN Development Programme (UNDP) said the delivery of 30 million ballots and other supplies to some 50,000 polling stations will be completed by Friday, as part of the UN's largest electoral support effort ever.
Meanwhile, at 210 regional training sites, UNDP and MONUC are concluding the training of 12,000 polling supervisors, as well as planning for the safety of the 25.7 million Congolese who have registered to vote.
"It is a big country and there will certainly be pockets of unrest as we approach the elections, but still, there is no doubt in my mind that the average Congolese is looking forward to these polls," said UNDP Country Director Babacar Cissé, noting that, despite the obstacles, a plethora of campaign posters, signs and banners blanket Kinshasa.