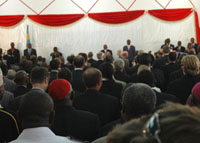 Rebels in the eastern Democratic Republic of Congo (DRC) say they will rejoin a peace conference, following a security dispute that briefly halted negotiations.
Renegade General Laurent Nkunda said Thursday the organizers of the conference agreed to provide security guarantees for the rebels, allowing them to return to the negotiating table.
The rebels suspended their participation in the conference earlier Thursday, saying one of their members was threatened with arrest.
They say U.N. officials accused rebel delegate Seraphin Mirindi of involvement in the 2001 assassination of then-Congolese President Laurent Kabila. A spokesman for the U.N. mission in Congo says the incident was a case of mistaken identity, and has been resolved.
Organizers hope the conference will be a catalyst for peace and reconciliation in the volatile eastern Congo region.
However, one delegate, a member of the DRC parliament, tells VOA he is frustrated with the way the conference is being run, because too few delegates are being given a chance to speak.
The conference in the regional capital of Goma has drawn hundreds of delegates representing the government, Nkunda's militia, and other regional groups.
Another U.N. official says he has received reports that Nkunda's fighters are continuing to recruit soldiers in eastern DRC villages despite a cease-fire declared last week ahead of the conference. Nkunda's military commander denied the reports.
Nkunda began his insurgency in 2004, saying local Tutsis need protection from Hutu rebels from neighboring Rwanda. Fighting resumed in August 2007, after Nkunda abandoned a peace accord and pulled his fighters out of the national army.
The clashes in North Kivu province have displaced an estimated 800,000 people from their homes.
The conflict in eastern Congo is complicated by the presence of the Hutu rebels and other armed groups. Parts of the region have remained largely out of the government's control since the end of Congo's civil war in 2003.