VOA News | Published on February 06, 2009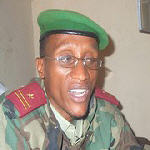 Negotiations between the Democratic Republic of Congo and Rwanda over the extradition of renegade army General Laurent Nkunda are expected to end today in Rwanda's capital, Kigali. This comes after residents of North Kivu province disrupted by the activities of rebels loyal to Nkunda demanded to see the rebel leader on trial in Congo. Meanwhile, human rights groups and the international community are putting pressure on President Joseph Kabila's government to hand over the former deputy commander of Nkunda's rebel movement to the International Criminal Court over alleged atrocities committed by the rebels. Ferdinand Luendo is a journalist resident in North Kivu. He tells reporter Peter Clottey that the priority of the ordinary Congolese is to see a return to peace.
"It is a big concern of the whole Congolese population, so it is not only (former rebel commander Bosco) Ntaganda and the others who committed murder and other atrocities. But the priority in Congo is not taking these people to trial. Our priority is peace. I have just walked all over the camps of the IDP's (Internally Displaced Persons) and visited many areas. What seems to be the priority of the population first is that people in Congo need peace," Luendo noted.
He said there seems to be a misunderstanding between what the people are looking for and the needs of the international community.
"It happened that most people do not understand the government's position in favor of Ntaganda not being put on trial. The president has said that at the moment what his government's main priority is to bring back peace to the country. And that taking people to trial is not its priority like that of the international community, which is demanding the rebel commander be handed to the International Criminal Court for prosecution," he said.
Luendo said there is need for people who are not Congolese to understand the position of most people who have been adversely affected by the activities of the rebels and the need for peace now.
"It is true for someone who has committed atrocities to be asked to answer for his or her crimes or be told to explain their actions. But that is not our main priority. It could be the point of view of the international community and not ours," Luendo pointed out.
He said although many Congolese want justice for crimes against them, they want peace to be established before embarking on the need to prosecute those who perpetrated the crimes.
"You know Congolese have suffered a lot and they are trying to prioritize. And their first priority is peace and that if peace is recovered then the international community can see to the prosecution of those who committed those crimes. But for the time being all the people are looking for now is for peace to return," he said.
Luendo said most Congolese express the need to extradite former renegade army general Laurent Nkunda to be put on trial in the future.
"Everybody would like to see the trial taking place. So that is the dream of every Congolese, to see Nkunda taken from Rwanda and brought to Congo. He is a Congolese who committed crimes against his fellow Congolese, and most people are hoping he would be brought back to face trial," Luendo noted.                                           
Meanwhile, Bosco Ntaganda's rebel National Congress for the Defense of the People (CNDP) faction recently signed an agreement with Kinshasa ending rebel clashes with the national army.
Ntaganda's rebel faction urged Kinshasa to grant them immunity for acts carried out during the recent war in restive North Kivu province. The rebels want guarantees that they would not be prosecuted after their leader, Ntaganda, declared the war with the national army over on January 16. But the government has yet to respond to the rebel demand after coming under intense international pressure to hand over the former rebel commander to the International Criminal Court for prosecution.
Ntaganda claimed he had replaced former rebel leader Laurent Nkunda, saying he had lost his authority over the rebel group. But Nkunda who was recently arrested after crossing the border into Rwanda denies being toppled by Ntanganda.
Nkunda, however, faces a possible extradition to Congo after Kinshasa issued an arrest warrant against him for war crimes in the eastern province of South Kivu, which CNDP forces captured in June 2004.
A joint military operation between Congolese and Rwandan military announced the arrest of Nkunda after during its planned hunt of Rwandan Hutu Democratic Forces for the Liberation of Rwanda (FDLR) militiamen operating in Congo. Nkunda's arrest was widely viewed as being part of an agreement that allowed Rwanda to send more than 3,500 troops into Congo, marking an unprecedented cooperation between the Great Lakes neighbors after years of suspicion and hostility.