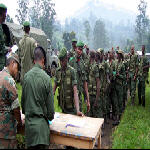 The Democratic Republic of Congo's army has launched an attack against rebel leader Laurent Nkunda, using helicopter gunships and heavy artillery.
A BBC correspondent in the east of DR Congo says it is the start of a long-anticipated offensive.
UN peacekeepers say government forces are attempting to take Mushake, a rebel stronghold 40km north-west of Goma, a day after they lost a battle.
Gen Nkunda's men took a nearby town, forcing its 40,000 residents to flee.
Government forces have repeatedly threatened Gen Nkunda with force unless he relinquishes his control over areas close to the Rwandan border.
But he claims he is defending his own Tutsi community against Rwandan Hutu rebels responsible for the Rwandan genocide in 1994, who have been roaming the east of DR Congo ever since.
Strategic
The BBC's Arnaud Zajtman in the region says Mushake looks over a key road that links the regional capital, Goma, with valuable tin mines and rich farming land further west.
The small hilly town is a stronghold of the rebels and its buzzing market centre is inhabited mainly by Tutsi cattle farmers.
It is being attacked by ground troops using heavy artillery supported by two attack helicopters of the government forces.
A military spokesman for the UN mission in DR Congo said UN peacekeepers are bringing logistic support to the government forces, but are not engaged in any fighting.
The attack comes a day after the rebels captured the town of Nyanzale, about 100km further north.
The rebels forced the government soldiers to pull out and took control of their military base there.
Witnesses said over 40,000 civilians fled as a result.
There were no reports of civilian casualties but medical sources told the AFP news agency that several wounded government soldiers were in nearby hospitals.
The elected Congolese government has made a commitment to flush out the Rwandan Hutu rebels, and says Mr Nkunda and his 6,000-8,000 men should also lay down their arms.
Some 15,000 UN peacekeepers are in DR Congo to secure peace after a five-year conflict officially ended in 2002.