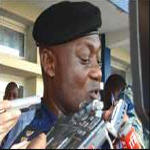 Colonel Lole Onyondo
Authorities displayed to the press on Monday 126 people suspected of involvement in a February 27 coup attempt against President Joseph Kabila.
According to the police, the president's residence was attacked to take his life, the N'djili International airport and Ndolo airfield to prevent reinforcements from reaching the capital, the logistics base at Camp Kokolo to procure ammunition, and the RTNC state television building to broadcast subversive messages.
"Thanks to a swift response from our defense and security forces, the attackers were routed and thus unable to attack other targets," police spokesman Lole Onyondo said in a statement.
The police said that the attacks had been carried out by people from outside the country who were joined by some accomplices from Kinshasa.
Eight soldiers and 11 attackers died in the fighting. Weapons said to have been used during the attacks were shown to the press. Authorities said they had seized 10 Kalashnikov rifles, 4 rocket launchers, grenades and machetes.
Forty four of the suspects have already been presented to judicial authorities. The remaining 82 are still being questioned by police investigators.