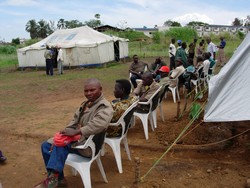 Photo: IRIN

Disarmed militiamen at a transit centre in Ituri

KINSHASA, 28 February 2007 (IRIN) - One of the main rebel groups in the troubled Ituri District of eastern Democratic Republic of Congo (DRC) began surrendering its weapons on Tuesday under an ongoing demobilisation, disarmament and reintegration (DDR) process, military and United Nations sources said.

The Front des nationalistes et intégrationnistes (FNI) militia, whose leader, Peter Karim, was made a colonel in the national army in October 2006, started handing in their arms in a village near Lake Albert on the DRC's border with Uganda.

"It is the last active group whose main elements turned in their weapons this morning in the village of Dera and are being taken to a centre for initial orientation," said Gen Vainqueur Mayala Vichana, the national army's commander in charge of Ituri. About 170 militiamen out of FNI's estimated 1,000 fighters had surrendered their arms by midday on Tuesday, he added.

Two other armed groups, which continued their military campaign during the transition period after the 2003 peace agreement designed to end civil war in the DRC and even after the 2006 elections, have already surrendered their arms under the DDR programme.

"This first gesture by Karim is a good thing so that the United Nations Children's Fund [UNICEF] can recover child soldiers so that they can be reintegrated back into schools or in professional jobs, crafts, trades. We hope that Karim will go all the way because we estimate that 500 children are with him," said Bienvenu Panda, UNICEF's child protection officer in Ituri.

The FNI had been, until now, outside the DDR process because Karim had imposed conditions on his group's participation in it.

"The fact that 170 militiamen have joined the [disarmament] process is an encouraging sign," Mayala said.

He said the government was satisfied it had met all the conditions set by Karim except the demand for amnesty.



The fact that 170 militiamen have joined the [disarmament] process is an encouraging sign

"Amnesty is a question of a political nature that I cannot respond to, but since a government has been formed after the elections, we have to wait for it to deal with the issue within the political framework and we will, without doubt, have a positive response," Mayala explained. The government made Karim an army colonel and gave him money to organise the logistics of demobilising his combatants, he added.

According to Lt Col Didier Rancher, spokesman for the UN Mission in the Congo (MONUC), the talks that led to the start of the arms surrender exercise were led by Mayala on the army side, while Karim headed the FNI delegation.

Humanitarian agencies are continuing to resume their activities in the zone under Karim's control.

"UN agencies are continuing to go into the zone under military escort," said Idrissa Conteh, information office of the UN Office for the Coordination for Humanitarian Affairs (OCHA) in Ituri.

Despite improving security on the ground, an estimated 15,000 displaced people are reluctant to return to their homes, according to OCHA.

"They fled due to fighting, in the past weeks, between the army and militias; harassment and looting of their property by the army and the burning of their houses," Idrissa said.

MONUC had deployed several companies of soldiers in the area where the arms were being given up and provided helicopters to take the disarmed fighters to the orientation centre, Ranchier said.

According to the agreement, the demobilised combatants will be free to choose whether to return to civilian life or join the DRC army.

"There is a place for everybody in the national army. It is a question of choice," said Mayala. He said the disarmament exercise was not the only challenge. Reconciliation between rival ethnic groups was crucial, he said.

Ituri has been ravaged by ethnic conflict since 1999. More than six armed groups have fought intermittently, leaving more than 50,000 people dead and another 400,000 displaced.

ei-ri/an/jn/mw