The 11 permanent offices of the Provincial Assemblies have been installed

By Monuc | Published on January 15, 2007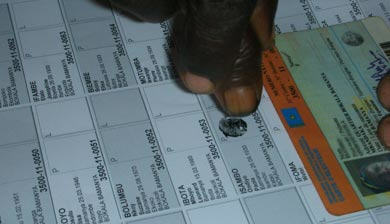 The permanent offices of the provincial Assemblies have been installed on Sunday 14 January 2007 in accordance with the rearranged calendar of the Independent Electoral Commission (IEC). Jean-Pierre Bemba's platform is controlling four of the eleven provincial offices.

The platform of the "Union pour la Nation" of JP. Bemba got all the seats of the permanent offices in city-province of Kinshasa and in Bas-Congo province. It also obtained the majority of seats in the permanent offices of the provincial Assemblies in Equator and Kasaï-Occidental provinces.

However, as to the "Alliance de la Majorité Presidentielle" (AMP) of Joseph Kabila, it got the control of all the five seats in six provinces; Oriental province, Maniema, South-Kivu, Katanga, Kasaï-Oriental and the Bandundu. The AMP also is leading the office in North-Kivu province.

The newly elected 55 members of the provincial Offices who are part of the 690 provincial deputies are going to elect the senators on 19 January 2007 as stated by the electoral calendar.

The senatorial election will take place on January 19 2007. The 1124 senatorial candidates will conduct their campaign from January 15 until January 17. The provisional results will be announced by the IEC on January 20 2007 and the official installation of the Senate is planned for February 03 2007.