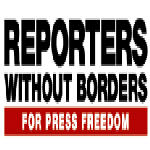 Reporters Without Borders today condemned the jailing of Rigobert Kakwala Kash, the editor of the privately-owned weekly Le Moniteur, yesterday in Kinshasa and the 11-month prison sentence he has received as a result of a libel suit by the governor of the western province of Bas-Congo. He is the first journalist to be imprisoned since Joseph Kabila's election as president.
The day before his arrest, the High Authority for the Media (HAM) suspended Le Moniteur's licence for six weeks in response to a separate complaint brought by the governor over the same case.
"A journalist can be punished twice for the same offence in Democratic Republic of Congo if the plaintiff is sufficiently powerful and bent on revenge," Reporters Without Borders said. "This not how we see press freedom. The case shows how unfair Congolese law is, and how badly it needs to be amended. Kakwala must be released while the country waits for the new government to tackle this vital reform."
Kakwala was arrested early yesterday morning at his Kinshasa home by five police special services agents and was taken to the headquarters of the General Directorate for Intelligence and Special Services (DGRS), commonly known as "Kin-Mazière."
He was lately transferred to the Kinshasa penitentiary where he was notified that the Kinshasa/Kasa-Vubu neighbourhood court had sentenced him on 6 January to 11 months in prison for libelling, insulting and spreading false rumours about Bas-Congo governor Jacques Mbadu Situ.
Kakwala's lawyer raised several procedural objections during an initial hearing before the Kinshasa/Kasa-Vubu court on 27 December and filed an appeal before a higher court. When the judge of the Kinshasa/Kasa-Vubu court issued his verdict and sentence on 6 January, he violated a requirement under Congolese law to suspend the case under the appeal had been heard.
Kash's lawyer has appealed against the sentence and has petitioned for his client's conditional release.
The governor of Bas-Congo objected to reports in the 21 November, 4 December and 27 December issues of Le Monitor claiming that he disbursed 45 million Congolese francs (80,000 euros) to pay government employees in his province in defiance of interior ministry instructions not to do so.