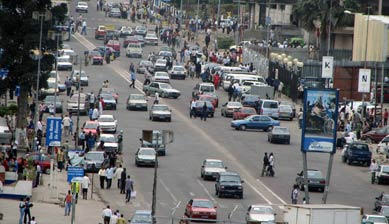 Security is high in Kinshasa ahead of the inauguration ceremony for newly elected DRC president Joseph Kabila, which will commence tomorrow at 11am on Wednesday December 5 2006 in the "Palais de la Nation".

To bolster security ahead of the historic occasion, many of Kabila's presidential guard elements, as well as the Congolese National Police (PNC), have been deployed in Kinshasa, particularly in the central administrative and business district of Gombe.

For the inauguration ceremony, invited guests and dignitaries will begin arriving as early as seven in the morning, and will include representatives of government and civil society, as well as numerous foreign dignitaries and heads of state.

Eleven African heads of state are expected, including those from neighbours Republic of Congo, Angola, Burundi, Tanzania and the Central African Republic, as well as Gabon, Togo, Namibia, Zimbabwe, Liberia and South Africa.

In addition, Amos Ngongi, former UN Special Representative to the Secretary General in the DRC, as well as UN head of Peacekeeping operations Jean Marie Guéhenno, will be present at the ceremony.
As the youngest African head of state at 35 years of age, Mr. Kabila faces a daunting task of rebuilding this vast central African country after years of war and dictatorship.

His first task will to be to name a Prime Minister, who will then propose a cabinet of ministers for the new government.

Mr. Kabila's many challenges include rebuilding national infrastructure after years of war and neglect, improving essential social services such as education and health, as well as disarming the remaining rebel groups that continue to destabilize the country, particularly in the eastern provinces.