Schwarz report - Download 190K


Listen to Schwarz report

U.N. peacekeepers and firefighters in the Democratic Republic of Congo have rushed to the Supreme Court to contain violence after clashes and a fire broke out. The court is considering a complaint of fraud by the apparent loser in the Oct. 29 presidential election, former rebel leader Jean-Pierre Bemba.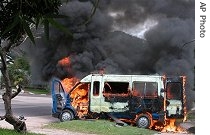 A Congolese police van burns outside the smoldering Supreme Court building in Kinshasa, Tuesday, Nov. 21, 2006

Offices, documents and furniture burned at the Supreme Court after mobs tried to prevent proceedings from taking place.

Earlier, gunshots and tear gas filled the air. Journalist Eddy Isango was on the scene.

He says he did not know where the shots were coming from. He says police and members of Mr. Bemba's guard were involved in the firefights.

The violence erupted as the court started studying a challenge to provisional results that give Mr. Bemba's opponent, transitional President Joseph Kabila, a wide victory.

Before the fire broke out, the proceedings had been halted over a procedural matter raised by Mr. Bemba's lawyer.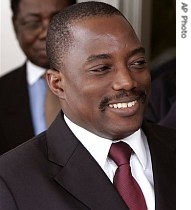 President Joseph Kabila
Mr. Kabila has appealed for calm and says he will bring Congolese together again, after years of misrule, corruption and conflict.
Delly Sesanga, a spokesman for the Bemba camp, is calling for a re-vote.
"We think that the high court will cancel all results of the second [round of] presidential elections in Congo and organize in some time a new election which will be more transparent and free," he said.
But many of Bemba's supporters say they believe that Mr. Kabila will manipulate the outcome of the ruling, much as they claim he did during the voting.
International observers have said there were problems, but they believe the vote counting reflected the will of Congolese. Voting was split along an east-west divide, with Mr. Bemba doing well in the west, including Kinshasa, but very poorly in the east.