Colombant report - Download 397k


Listen to Colombant report

Rival camps in the Democratic Republic of Congo's post-war election process are busy building alliances, but fears of more unrest remain.  A second round presidential runoff will take place October 29, along with an election for provincial posts.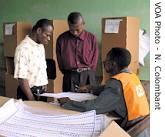 Voters getinstructions in Kinshasa

Month-long campaigning has started for the provincial election, while the presidential campaign will have to wait until mid-October to kick off.

But seats are already being counted for the one-round parliamentary election, which took place along with the first round presidential vote in July.

Parties associated with incumbent President Joseph Kabila, the son of the slain former rebel turned president Laurent Desire Kabila, say they have more than half the 500 seats.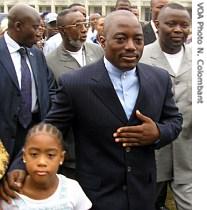 Joseph Kabila leads in East DRC
Armand Kasongo is a member of the coalition backing the pro-presidential party, known as the AMP. He says more and more parties are joining Mr. Kabila's camp.
"So far AMP is still open," he said.  "So we expect more and more people joining us. So we are quite sure and we expect and we are convinced that before the settlement of the new assembly we should maybe reach more than 350 members."
Kasongo says he hopes this will translate into a landslide win for Mr. Kabila in the second round.  Mr. Kabila, who won 40 percent of the vote in July, will face former rebel leader Jean-Pierre Bemba, who won 20 percent, mainly from western areas.
"We will have the opportunity to rule this country and bring lasting peace and economic development in this country," he added.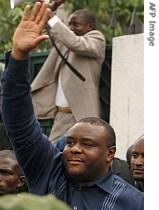 Jean-Pierre Bemba waves to a crowd gathered outside his house in Kinshasa
But Mr. Bemba, who is a vice president in the current power sharing government, is also trying to build alliances.
He has secured support from part of the main civilian opposition party known as the UDPS, which has strong support in central regions.  That party is officially boycotting the process, saying it is not free and fair.
But some party leaders, like Gaston Dindon, now say they back Mr. Bemba.
"Kabila and his party have done everything to put us out of this process," he said.  "That is why the UDPS cannot support a Kabila candidacy.  Now we are listening to how people, militants and all the people in Congo who would like the UDPS position to support one of the two candidates and most of the people want to support Jean-Pierre Bemba."
Looting, rioting, fire fights and dead bodies lying in streets have marred the election process. The head of a European rapid reaction force is warning the situation remains very unstable, despite promises from the two candidates to reduce violence.
The force known as EUFOR is due to leave Congo in December, just days after results are scheduled to be announced, leaving security to the large U.N. peacekeeping force and a newly-trained police. These have often been unable to contain outbreaks of violence.
About half the fighters from Congo's most recent war remain armed.