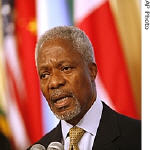 Looking ahead to next month's run-off presidential election in the Democratic Republic of the Congo (DRC) and beyond, United Nations Secretary-General Kofi Annan today called for the UN mission in the vast African country to be extended until February, and also for continued authorization to reinforce troop numbers when necessary.
Mr. Annan's recommendations come in his latest report to the Security Council, which covers the past three months, and before the end of the current mandate of the UN Mission in the DRC (MONUC) on 30 September. In it he also stresses the need for the 29 October run-off contest between President Joseph Kabila and Vice President Jean-Pierre Bemba to be credible and transparent.
"I would recommend an extension of the current mandate of MONUC for a period of four and a half months, from 1 October 2006 to 15 February 2007, to allow sufficient time for consultations with the new Government on the Mission's future role," he said, while also calling for similar extensions in the police and civilian components and regarding reinforcements.
"I encourage President Kabila and Vice-President Bemba to reaffirm their commitment to the electoral calendar, which established 29 October as the date for the second round? It is vital that the parties and candidates take all possible steps to ensure that the electoral campaign is freely contested across the country and that the elections are? credible and transparent."
In his report Mr. Annan asked the Council to extend the authorization to temporarily redeploy troops from the UN Operation in Burundi, known by its French acronym ONUB, to MONUC as required.
Commending the Congolese for the first round of presidential elections and National Assembly polls two months ago, he described these first democratic elections in over 40 years as a "landmark step" in the peace process. In the first round, President Kabila received 44.8 per cent of the vote to Vice-President Bemba's 20 per cent.
However, he highlighted the challenges ahead after the next round, including the need for assistance in strengthening democratic institutions, promoting the rule of law and basic human rights, providing security as well as in other areas, and reiterated the UN's backing while also calling for more international support.
"In the post-elections period, international assistance? should be strengthened and sustained in support of the peace consolidation efforts of the Government. Further progress in the implementation of political and governance reforms will be vital in laying the foundations for durable peace and stability."
MONUC currently has over 18,000 uniformed personnel on the ground in the DRC, supported by over 3,600 civilian staff and UN Volunteers helping the country rebuild after a six-year conflict that cost 4 million lives through fighting and attendant hunger and disease, widely considered the most lethal fighting in the world since World War II.