Monuc | Published on September 06, 2006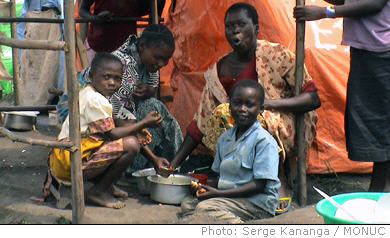 At the weekly press conference on this Wednesday September 6 2006, MONUC expressed its satisfaction with the progress of the DRC electoral process, while remaining concerned with the humanitarian situation in the country.

MONUC firstly expressed satisfaction with the current progress of the DRC electoral process, with negotiations progressing well between the two remaining presidential candidates, Mr. Kabila and Mr. Bemba, following last month's unrest in Kinshasa.

MONUC welcomed the agreement reached between Kinshasa media and the High Authority of the Media in relation to the respect of the code of good conduct and ethics in the run up to the combined elections- the second round of the presidential, as well as provincial elections.

In addition, they announced satisfaction at the decision of the European Union to allocate a further 16 million euros in funding for the upcoming elections, scheduled for October 29. They also stated that the printing of the election ballot papers in South Africa was well underway, as well the distribution of electoral kits throughout the country.

But MONUC expressed some concern at the precarious humanitarian situation that still persists in the country, especially at the time of the five day visit of Jan Egeland, UN Under Secretary General for Humanitarian Affairs, to the country.

The DRC remains a serious cause for concern, with as many as 1,200 Congolese dying on a daily basis, mainly as a result of the continuing conflict in the east. Mr. Egeland has on more than one occasion referred to the DRC humanitarian crisis as a silent "Tsunami", which has taken the lives of an estimated four million Congolese since 1998.

In view of this, 38 million dollars has been recently allocated to bolster United Nations humanitarian aid for the country, which the Under Secretary General hopes will help to address the problems the DRC is facing in this regard.

Mr. Egeland arrived into Kinshasa on Tuesday September 5, where he subsequently met with President Kabila, MONUC representatives and DRC election donors.

He is currently in Katanga province in south eastern DRC to meet with representatives from MONUC, OCHA and NGO's based there, as well as local government authorities.

He will then travel to the provinces of South Kivu and Ituri in the coming days, to review the humanitarian situation on the ground, before flying on to Gulu in northern Uganda on Saturday.