IRIN | Published on August 22, 2006
KINSHASA, 22 Aug 2006 (IRIN) - Presidential frontrunners Joseph Kabila and Jean-Pierre Bemba of the Democratic Republic of Congo will have to make political alliances to win the run-off election due on 29 October, analysts said.

A run-off is needed because, under the country's electoral law, a candidate must win 50 percent plus one vote to be declared the outright winner.

In the results for the first round announced on Sunday, Kabila, the incumbent president, won 44.8 percent of the votes, and Bemba, his nearest rival and one of the vice-presidents, 20 percent. Kabila swept the east of the country and Bemba the west.

Kabila won the eastern provinces of Orientale, North Kivu, South Kivu, Maniema and Katanga, which account for 11.5 million of the nation's 25 million registered voters. Bemba won in the western provinces of Bas-Congo, Equateur and the capital, Kinshasa.

Nationwide, about 18 million voters - just over 70 percent of the electorate - took part in balloting on 30 July, and some analysts say that in a second round Kabila will easily retain the numerical advantage.

"If voter turnout remains the same as in the first round, and if voters in the east poll for Kabila for the same reason as they did [the first time], then he would need six percent more votes, that is to say close to 900,000 votes, to win," Philippe Biyoya, a professor of constitutional affairs from the Protestant University of Congo, said on Monday.

"Bemba for his part would have to fight hard to gain the 30 percent, that is 5.1 million votes, to hope to win," he added.

Both men, he said, would have to battle for votes in Kasai Oriental and Kasai Occidental, strongholds of veteran politician Etienne Tshisekedi. To get votes there, they would have to win Tshisekedi's support.

Tshisekedi did not compete in the elections. Votes that would almost certainly have gone to him went to Oscar Kashala, leader of l'Union pour la reconstruction du Congo, the candidate in fifth place, Biyoya said.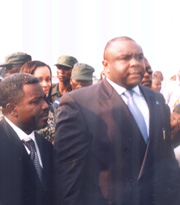 Presidential candidate Jean-Pierre Bemba, Kabila's main rival.
Bemba might be able to harness support in diamond-rich Kasai because his wife comes from there and he campaigned with her, although this did not seem to factor highly in the first round results.
Aides to Tshisekedi and Bemba say the two held discussions before the elections, while Tshisekedi appears to be politically estranged from Kabila.
"Everything, therefore, depends on the interests at play, and on Tshisekedi aides who may be in touch with Kabila or Bemba," Biyoya said.
Kabila has, for his part, already allied himself with certain of the 33 presidential candidates in the first round, some of whom campaigned on his behalf - such as Mbusa Nyamwisi.
Others who might help tip the balance are candidates Antoine Gizenga, Mobutu and Kashala.
"Already, Kabila seems to have promised, if not the premiership, then the presidency of the Senate, to Antoine Gizenga, who seems increasingly close to him. Given that, what else could he possibly offer Tshisekedi to entice his votes?" Biyoya said.
Jean-Marie Labila, a political analyst at the University of Kinshasa and director at the Ministry of International Cooperation, said the east-west political divide reflected linguistic divisions.
The west is largely Lingala-speaking, and the east, Swahili-speaking.
"The east, for long the scene of fighting among warring factions, has rejected all those who have until recently been rebels, and Bemba is among this lot," Labila said, "but in the west, the population has punished Kabila, whom it holds responsible for more than 10 years of a government incapable of providing for them and solving their social problems."
[On the Net: Battling it out in Kinshasa: http://www.irinnews.org/report.asp?ReportID=55219
ei/oss/cb/mw