In the Democratic Republic of Congo, a fire has broken out at the security camp of a former rebel leader just as he was holding a large campaign rally in the capital Kinshasa ahead of Sunday's post-war election.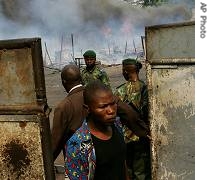 Remainder of camp for militiamen seen in background in Kinshasa, July 27, 2006

Smoke rose through the air near the camp of security guards for the former rebel leader turned interim vice president and current presidential candidate, Jean-Pierre Bemba.
Dozens of people, some of them bleeding, fled from the camp but soldiers refused to give journalists access to the area.
The cause of the fire was not immediately clear, but it followed an explosion, which came right after a jet screeched at low altitude over downtown Kinshasa. A U.N. diplomat said the jet belonged to the European Rapid Reaction Force, which is there to help with security during the elections. He added that the jet was not the cause of the explosion. He believed the fire was caused by the camp's munitions stores.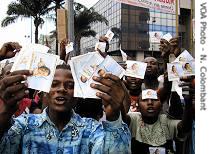 Bemba supporters in Kinshasa

There are also reports that a church was burned down near the stadium wheer Bemba supporters were gathered awaiting his arrival.

When asked, most, like this man, said they were for Bemba because they said he is a real Congolese.

"I like Bemba to become president of Congo because he is from Congo, he is Congolese of origin, ok, you understand?" he said.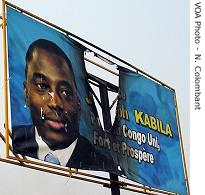 Kabila posters have been burned

Opponents of the current interim president, Joseph Kabila, the son of slain coup leader, Laurent Desire Kabila, point to the fact he grew up abroad in Tanzania and Uganda. They say his mother is not Congolese and that he works only in the interests of western powers and companies. He denies this. Mr. Kabila also says no one is more Congolese than he is.

Meanwhile, Bemba has been trying to get the support of a main opposition party which is boycotting Sunday's election. Their supporters have also called Mr. Kabila a foreigner, and accuse western powers of rigging the vote in his favor.

The worlds largest United Nations peacekeeping mission which is helping organize the vote denies this.

Inside the stadium as crowds waited, there were more slogans demanding Mr. Kabila get out of Congo.

This man said he was singing Bemba's praise as new head of state. He says Congolese know where he comes from and who his family is. His father was one of the most influential businessmen during the three-decade corrupt rule of Joseph Mobutu.

Bemba made his own money during the 1980s and 1990s dealing with rebels from Angola and in the cell phone industry.

During Congos most recent war, Bemba became the leader of a Uganda-backed rebellion.

Many Congolese, like this student, fear he would become a ruthless president.

"I dont think hes a good man. I dont think so. I dont know if he can do something for our country," she said.

She also shares the fears of many that if Bemba loses, he might start a new rebellion with many armed men still loyal to him.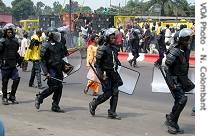 Police had to intervene in violence in Kinshasa

"Me too, I am so afraid," she added. I"f he loses, he can create a war in our country. He said that himself. We are so afraid of that. We dont know. But we have to do elections for our future. It is so important."

Mr. Kabila is expected to hold a rally Friday in Kinshasa. Another candidate who has filled stadiums is the U.S.-trained doctor Oscar Kashala, leading many to believe a second round of the presidential vote will be needed, if no candidate gains more than 50 percent.

There has been other recent violence in Kinshasa, including the brutal repression of an anti-vote march this week.

There are 30 other presidential candidates, but most have stopped campaigning, saying the process is not free and fair, while those still running appear to have only limited regional appeal.

A one-round legislative election will also take place.