A body of southern African nations, closely following the Democratic Republic of Congo's historic elections, says the poll later this month can be free and fair. Candidates are campaigning in the country's interior, violence erupted at a rally and complaints of irregularities continue.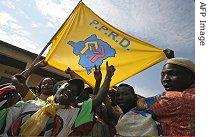 Supporters of President Joseph Kabila, who is a presidential candidate of the People's Party for Reconstruction and Development (PPRD)

Following two days of meetings with political leaders and election organizers in Congo, the Southern African Development Community said the country is ready for free and fair elections.

SADC ministers said an unprecedented amount of money and time has been invested in the election, which will be the first democratic poll in the country in over 40 years.

Officials say Congo's July 30 vote will take place, even though thousands of rebels continue to roam the lawless east.

A major opposition party has called for a boycott, and most of the candidates accuse the government of intimidation, and say there have been irregularities in the lead up to the poll.

However, ministers attending the meetings said that, when most of their nations organized their first democratic elections, the exercise was not perfect, but the losers would have to accept the results.

Incumbent President Joseph Kabila, former rebel leaders Jean-Pierre Bemba and Azarius Ruberwa and former bank governor Pierre Pay Pay, the heavyweights amongst the 33 presidential hopefuls, took their campaigns to the bush over the weekend.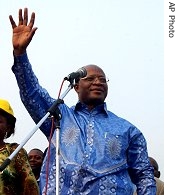 Oscar Kashala

But in the capital, violence erupted at a rally where youths stoned supporters of Harvard-trained doctor Oscar Kashala, and were beaten up in revenge.

Kashala was a relatively unknown contender, until more than 30 of his employees were briefly arrested and accused of plotting a coup.

He is among a group of lesser-known candidates, who say they have been intimidated and their campaigns sabotaged by the government.

Last week, a U.S.-based election observer team from the Carter Center said Congo's government is abusing its power by trying to intimidate certain candidates ahead of the coming elections.

The Kinshasa government says it is not intimidating opposition candidates.

Congo's elections are the most complicated the U.N. has ever been involved in, and, it is hoped, will draw a line under the last war, which lasted from 1998-2003 and killed four million people.