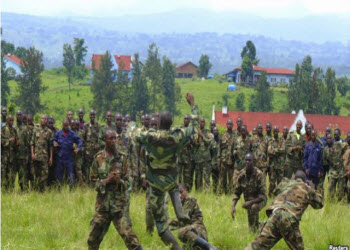 M23 rebels training at Rumangabo military camp, North Kivu April 27, 2013 |
Enlarge
The Congolese army hit deep into M23 rebels' territory on Wednesday as three attack helicopters bombed the strategic military base at Rumangabo, located 50 kilometers north of Goma, and one of the biggest M23 bases in the region.
UN-backed Radio Okapi reported that M23 rebels fled the base in panic, surprised by the unexpected shelling away from the frontlines.
The Congolese army announced it had destroyed several ammunitions depots at the base.
Asked about uncorroborated civilians casualties reported by an M23 official after the raid, Colonel Hamuli, the Congolese Armed Forces (FARDC) spokesman in North Kivu province, rejected the claim as M23 propaganda.
Col. Hamuli told Reuters that "Rumangabo is a purely military site. It is possible that there were civilians seeking refuge inside, but it is a legitimate target for the FARDC."
The Congolese army is relying more and more on attack helicopters to shell M23 positions since the fighting resumed in this month, leading to heavy losses in the rebel camps.
The M23 rebels have lost more than 10 territories as the army continues its slow advance towards rebel strongholds such as Rumangabo military base.