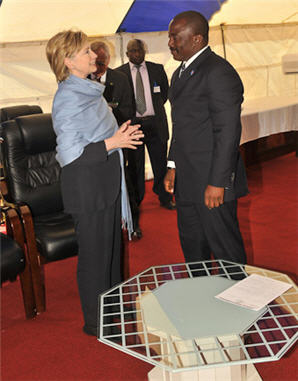 U.S. Secretary of State Hillary Clinton and Congolese President Joseph Kabila say they are both committed to improving security in Congo's troubled Kivu regions. Secretary Clinton announced $17 million in new U.S. assistance to help victims of sexual violence in Congo.
Secretary Clinton told President Kabila that Washington wants a new era of partnership with the Democratic Republic of Congo.
"We know that the DRC, its government and people face many challenges from a lack of investment and development to the problem of corruption and difficulties with governance to the horrible sexual- and gender-based violence visited upon women and children in the country," she said.
Following a meeting in the lakeside city of Goma, Clinton told reporters that Kabila accepted her offer of U.S. legal, financial, and technical experts to make specific suggestions to overcome some of those obstacles. She says the president told her that security in Kivu is better than it was one month ago but is not yet what it needs to be.
Clinton says the Obama administration is working with its international partners, including the United Nations, to do more to end the reign of violence in Kivu, where two wars and a variety of militia movements have destabilized the region since the end of the 1994 genocide in neighboring Rwanda.
Earlier this year, President Kabila and Rwandan President Paul Kagame launched a joint military operation against ethnic Hutu and Hunde militia. Clinton says that cooperation is helping. "I commended the president for his outreach to Rwanda and other neighboring countries, which is an important part of trying to bring peace and stability to Eastern Congo," she said.
But that joint military operation also increased the number of displaced civilians, many of whom become victims of sexual violence.
Clinton visited a camp for displaced civilians outside Goma, where more than 18,000 Congolese live in shacks on black rock in the shadow of a volcano.
Chantale Mapendo told Secretary Clinton that many women are raped when they leave the camp to search for firewood. Most of their children are not in school, and Mapendo says women are living in a hard state at the Mugunga camp, some becoming prostitutes. She urged Clinton to help bring peace to Kivu so they can go home.
The U.N. World Food Program's Stephanie Savariaud says it is all about security. "The biggest challenge is what to decide to do. To go back home? Maybe not, it is too dangerous. To stay here? But they have no field to cultivate food. Safety is the key for people like IDP's [Internally Displaced People] for sure," she said.
Secretary Clinton announced the $17 million of new U.S. assistance, including $10 million to train health care professionals to better help victims of sexual violence, at a roundtable in Goma with victims of such violence.
She and President Kabila discussed enhancing the training of Congo's military to make the force more professional and ensure that soldiers are paid to reduce indiscipline. "We believe that a disciplined, paid army is a more effective fighting force. We believe there can be more done to protect civilians while you are trying to kill and capture the insurgents," she said.
Clinton asked President Kabila about the prosecution of five senior army officers charged with rape. She says Washington backs military efforts to rout ethnic militia while at the same time supporting joint U.N./Congo protection teams for civilians in Kivu.