BBC News | Published on May 12, 2011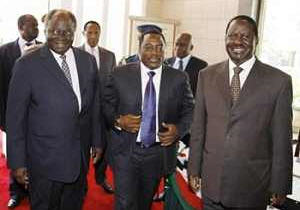 Presidents Kabila and Kibaki meet in Nairobi, Kenya on March 4, 2011 over gold smuggling
Three suspected gold smugglers from the Democratic Republic of Congo have been charged with fraud in a Kenyan court.
Their names appear on a list of DR Congo's 15 most-wanted gold smugglers, accused of stealing 2.5 tonnes of gold between July 2010 and February 2011.
The men, arrested this week in Nairobi with 400kg of gold, deny the charges.
Congolese officials see Kenya as a major hub in the illegal gold trade, which fuels conflict in the mineral-rich east of DR Congo.
In March, Kenya and DR Congo agreed to jointly investigate the trade.
'Gun-running'
A Congolese diplomat in Nairobi, Bob Katamba, told the BBC that one of the suspects who appeared in court on Thursday, Jean-Claude Mudeke Kabamba, was believed to the ring leader of the trade.
He said it was alleged he went by the alias "General Kabamba" and was believed to be gun-running for the Mai Mai rebel group in eastern DR Congo in exchange for gold.
Kenyan police say a computer with valuable information about the clandestine trade was also seized this week.
Gen Kabamba and two other suspects, Ruphin Kazadi Elumba and Jean-Claude Dyansangu Kanza, were charged with conspiracy to defraud a gold buyer of $1.4m by posing as legal gold dealers.
The BBC's Odhiambo Joseph in Nairobi says the men are due back in court next Tuesday. Police say they expect to press more charges as their investigation is still going on.
In February, a Kenyan official investigating a suspected case of gold smuggling was shot dead in Nairobi.