Radio Okapi | Published on May 04, 2011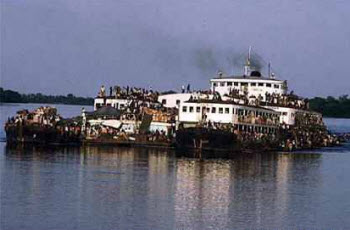 Overloaded boats on the Congo River © Emil & Liliana Schmid
President Joseph Kabila has sacked Minister of Transportation Laure-Marie Kawanda after two boat accidents left dozens killed and others missing in a span of a little over a week.
Minister of Communication and government spokesman Lambert Mende said that Kawanda was ultimately accountable for the negligence in the sector that led to the accidents.
At the current stage of the investigation, the definitive number of dead in the accident that occurred on the Kasai River on Monday is not yet known. But, the number of casualties could be very high, Mende told Radio Okapi.
At least 39 people were said to have died last week in another boat accident on Lake Kivu.
The government has declared three days of mourning nationwide.


On the web: Congo News Agency | From Radio Okapi article