BBC News | Published on October 04, 2010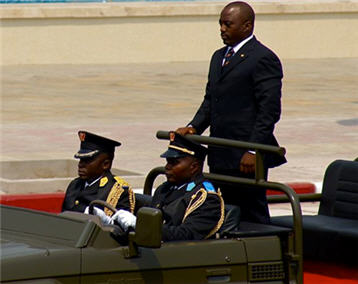 Relatives and activists have rejected suggestions that a man arrested for throwing stones at DR Congo President Joseph Kabila's convoy had committed suicide.
Armand Tungulu Mudiandambu, a Belgian resident, was found dead in his cell on Saturday after his arrest last week by presidential bodyguards in Kinshasa.
Officials say Mr Tungulu appeared to have killed himself using a pillowcase.
But a human rights activist said there were no pillows in Congolese jails.
The chief prosecutor's office said an official investigation had been opened but activists say it must be carried out by independent experts.
One of Mr Tungulu's relatives told French radio that he did not believe he had killed himself.
While Jacob Baluishi of the Congolese Observatory of Human Rights told the AFP news agency: "We can't understand how somebody could have killed himself with a pillowcase when we all know that there are no pillows in the jails of the DRC [Democratic Republic of Congo]."
In June, leading Congolese human rights activist Floribert Chebeya was found dead after being summoned to a meeting with the national police chief.