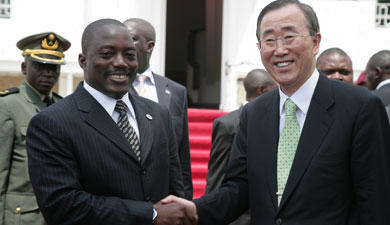 File photo
Secretary-General Ban Ki-moon arrived today in the Democratic Republic of the Congo (DRC) as he begins a two-nation trip to Africa, his third to the continent over the past month.
Mr. Ban is scheduled to take part in a gala dinner tonight in the capital, Kinshasa, which is being hosted by Joseph Kabila, the President of the DRC. He will also hold a bilateral meeting with Mr. Kabila and other heads of State during his visit.
The centrepiece of the UN chief's visit will take place tomorrow when he attends events being held to commemorate the fiftieth anniversary of the DRC's independence from Belgium.
Mr. Ban then travels to Gabon for the last leg of the trip. In other visits to Africa over the past month, he has visited Malawi, Uganda, South Africa, Burundi, Cameroon, Benin and Sierra Leone.