BBC News | Published on June 06, 2010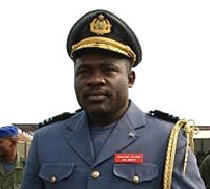 General John Numbi
The head of police in the Democratic Republic of Congo has been suspended following the death of a human rights activist, officials say.
Three police officers have also been arrested and the president is determined to resolve the case, the interior minister said.
Floribert Chebeya, head of the group Voix des Sans Voix, was found dead in his car near Kinshasa on Wednesday.
He had reportedly been due to meet the police chief that evening.
Both the police and Voix des Sans Voix have said the meeting never took place.
'Precaution'
The police chief, John Numbi, is seen as a close ally of President Joseph Kabila, the BBC's Thomas Fessy reports from the Congolese capital, Kinshasa.
Activists say Mr Chebeya had received regular threats over the last 20 years.
On Friday, the UN Secretary General Ban Ki-moon called for an independent inquiry into the incident. The government has ordered its own investigation.
In a statement read out on television, Interior Minister Adolphe Lumanu said on Sunday that President Kabila was "determined that all light be shed" on Mr Chebeya's killing.
"To allow the enquiry to be conducted smoothly, the national defence council decided as a precaution to suspend inspector general John Numbi," the statement said.
DR Congo is struggling to recover from years of civil war and insecurity. The UN has about 20,000 peacekeepers there.