UN: 90 Rwandan Rebels Killed in Eastern DRC

By VOA News | Published on March 10, 2010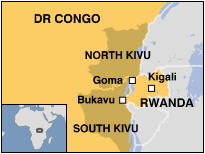 A United Nations official says Democratic Republic of Congo army troops have killed 90 Rwandan Hutu rebels.

Madnodje Mounoubai, a spokesman for the U.N. mission in Congo, said Wednesday that the rebels were killed during recent army operations in Congo's North and South Kivu provinces.

He says two rebel bases were destroyed and 68 rebels surrendered during the operations, which were supported by U.N. peacekeepers.

Ethnic Hutu rebels from Rwanda, known as the FDLR, have been the cause of unrest in eastern Congo for years.  

The U.N. mission and Congolese army launched an offensive against the group last year.  Human rights groups have accused the army of committing major rights violations against civilians in the course of the offensive.

The rebels initially entered Congo after taking part in the 1994 Rwandan genocide.  

The United Nations has indicated it may withdraw its 20,000 peacekeepers from Congo.  Congo's President Joseph Kabila has said he would like the peacekeepers out by June 30, when the country celebrates 50 years of independence.