VOA News | Published on October 05, 2007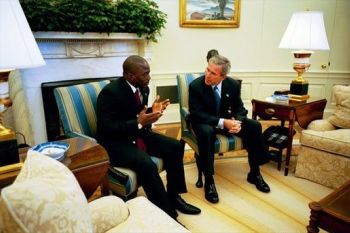 The White House says President Bush will meet with his counterparts from Liberia and the Democratic Republic of Congo in Washington later this month.
A pair of statements released Friday said Liberian President Ellen Johnson Sirleaf will visit the White House October 18, followed by Congolese President Joseph Kabila eight days later.
The White House says Mr. Bush and Mrs. Sirleaf plan to discuss cooperation in the areas of education, reconstruction, trade, security and debt relief. It says Mr. Bush and Mr. Kabila will focus on increasing cooperation on security sector reform and economic reconstruction in eastern Congo.
The Bush administration has been largely supportive of both countries' governments since elections that brought Mrs. Sirleaf to power in 2005 and confirmed Mr. Kabila as Congo's president last year.
Both countries are emerging from bloody civil wars that ruined much of their infrastructure.