The Congolese government will not negotiate with Laurent Nkunda

MONUC | Published on September 17, 2007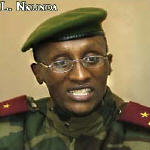 The Vice-Minister of Foreign Affairs, Mr. Alain Lubamba, reiterated the Congolese government's position on dissident General Laurent Nkunda on Saturday 15 September 2007, when he gave a speech on diplomatic accreditation in the DRC.

His declaration was a verbatim of the press release of the DRC delegation towards the United Nations, which was made after an appeal for dialogue launched by the Security Council last week.

Mr. Lubamba's declaration follows those of president Kabila on the subject, as the DRC government clearly announced to the representatives of the international community that "the DRC expresses its astonishment at the request made by the Security Council to start a dialogue with Laurent Nkunda."

"The Security Council seems to forget that Mr. Laurent Nkundabatware is listed in paragraphs 13 and 15 of Security Council resolution 1596 of April 18, 2005. The interested party is a war criminal, identified as such by the United Nations, in particular by the High Commissioner for Human rights in his /2002/764 report discussed by the Security Council at its 4,705th meeting on Thursday 13 February 2003."

In addition Mr. Lubamba reassured the international community on "his firm will to continue his partnership and co-operation with the international community as a whole, and the Security Council in particular, in order to find a durable solution, a definitive end for this conflict that threatens international security and has engulfed the Great Lakes region for more than one decade now, and which has prevented our government from moving towards reconstruction."

The United Nations Security Council had launched an appeal for dialogue between the two parties after the truce obtained by MONUC on 6 September last.

Ex general Laurent Nkunda has an estimated force of 4,000 men based primarily in the province of the North Kivu, and has refused to integrate his men into the regular army under the pretext of wanting to protect the interests of ethnic minorities Tutsis living in the area.

DRC president Joseph Kabila is expected to be present this week at the seat of the United Nations in New York, for the opening of the 61st General meeting.