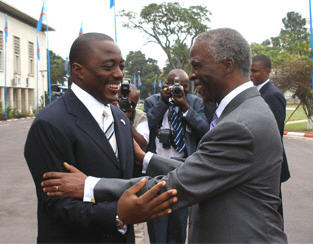 Pretoria: South African President Thabo Mbeki will today Monday, 20 August 2007 depart for Kinshasa, Democratic Republic of Congo where he will lead a high level South African Ministerial delegation to the South Africa?Democratic Republic of Congo Bi-national Commission (SA-DRC BNC) scheduled for Tuesday, 21 August 2007. President Mbeki will co-chair this session together with his counterpart President Joseph Kabila.
President Mbeki's delegation is expected to include Ministers Dr Nkosazana Dlamini Zuma, Mosiuoa Lekota, Jeff Radebe, Geraldine Fraser-Moleketi, Thoko Didiza, Dr Manto Tshabalala-Msimang, Charles Nqakula, Bridgette Mabandla, Naledi Pandor, Mandisi Mpahlwa, Buyelwa Sonjica, Lulama Xingwana and Deputy Minister of Home Affairs Malusi Gigaba.
Foreign Minister Dr Nkosazana Dlamini Zuma, supported by Director-General Dr Ayanda Ntsaluba co-chaired with her counterpart, Minister of Foreign Affairs and International Co-operation Antipas Mbusa Nyamwisi, the Ministerial meeting of the BNC from Sunday to Monday, 19 to 20 August 2007.
South Africa's participation in the fourth session of the South Africa-DRC BNC comes within the context of its commitment to consolidate relations with the DRC and to support the political, economic reconstruction and nation building processes in the country.
The fourth session of the South Africa-DRC Bi-national Commission is expected to evaluate:
- the status of Politics and Diplomacy co-operation includes the capacity building project, the public service census project, population and immigration matters
- defence and security co-operation including security sector reform projects
- economy, finance and infrastructure co-operation includes spatial development initiatives, mining, geology and metallurgy, energy, civil aviation, technical assistance in financial administration and agriculture
- social and humanitarian affairs which includes co-operation in the fields of education, and humanitarian and health projects
- evaluate how current projects support the development priorities of the DRC and the identification of possible additional projects to this effect.
South Africa's assistance to the DRC is informed by its vision of an 'African Renaissance' of peace, stability and security and sustained renewal, growth and socio-economic development for the African Continent. South Africa is committed to a strategy for post conflict reconstruction and development in the DRC that is aligned with that of the African Union and the New Partnership for Africa's Development (Nepad). South Africa's assistance to the DRC is broadly based on 3 key areas as decided by Cabinet, which are: the Security Sector Reform (SSR), Institutional capacity building and Economic development.
President Mbeki is expected to return to South Africa on Wednesday, 22 August 2007 ahead of his discussions with Sonia Gandhi, the President of the Indian National Congress and the leader of the ruling Indian Congress Alliance later the same day in Cape Town.
For further information, please contact:
Ronnie Mamoepa , Cell: 082 990 4853