MONUC | Published on June 20, 2007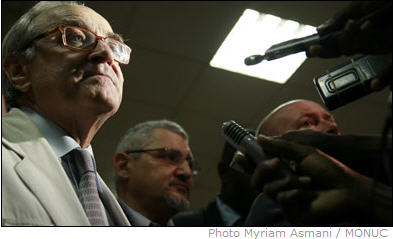 Following their arrival in Kinshasa on Tuesday night June 19 2007, the UN Security Council delegation have met this morning with President Joseph Kabila and acting Prime Minister Mr. Nzanga Mobutu, as well as the Ministers of Foreign Affairs, Justice, the Interior, Human Rights and Planning.

This afternoon June 20 2007, they plan to meet the members, political groups and presidents of both the Senate and the National Assembly, before departing for New York this evening.

The visit to the DRC marks the last stage of an African tour to Addis-Abeba (Ethiopia), Khartoum (Sudan), Accra (Ghana) and Abidjan (Ivory Coast). The delegation was welcomed on its arrival in the DRC by William Swing, MONUC head and UN Special Representative to Secretary General, the DRC foreign minister and Congolese authorities, members of the diplomatic corps and senior United Nations staff in Kinshasa.

Upon their arrival, Jean Marc de la Sablière, head of the Security Council delegation, gave a brief declaration to the press, in which he said it was the eight visit of the Council to the country.

"My first words are to congratulate the Congolese, to congratulate them for the political maturity which they showed at the crucial stage of the elections, which allowed them to finally emerge from crisis and the transition. It was a crucial stage, but only a stage, in the reconstruction of the country. There are now new challenges that are a matter for the Democratic Republic for Congo to strengthen what has been made, to create a strong democratic society on the basis of these elections."

He went on to say that the Security Council, in adopting resolution 1756, prolonged the MONUC mandate until the end of the year, at the same troop and staff levels.

"It proves that we wish to remain beside the Congolese. I would like to conclude by paying homage to MONUC's work, because I think it has done a lot, in the name of the international community and the service of the Congolese people, during this period."

"Therefore, we come to talk as the resolution is being put in place, we will speak of security problems in the east of the country, of security sector reform, of governance, and a lot of other topics. And we will do this in partnership, with the full respect of the sovereignty of the Democratic Republic of Congo, our partner. It means that we each have our demands and each must bring his ideas to the table," he concluded.