Probe into MONUC gold, arms trafficking allegations "well advanced"

By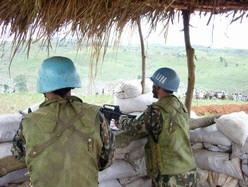 Photo: IRIN

The Blue Berets were allegedly involved in trafficking guns for gold from local militia groups

KINSHASA, 25 May 2007 (IRIN) - A special United Nations body has opened an investigation into allegations of gold and arms trafficking by personnel in the UN Mission in the Democratic Republic of Congo (MONUC) in Ituri region, a spokesman said.

"A complete investigation has been launched, independently of MONUC," said Kemal Saiki. "As soon as these allegations appeared, MONUC immediately asked for an investigation to be carried by the UN's Office of Internal Oversight Services (OIOS)."

The BBC reported this week that Pakistani soldiers in MONUC had been involved in trafficking with local DRC militia groups in 2004 and 2005. The Pakistanis were deployed around Mongbwalu mining town to restore peace between Lendu and Hema communities.

Saiki said similar allegations were brought to the attention of MONUC in 2006, adding that their policy was not to comment on investigations until a report had been sent to the appropriate authorities.

He said MONUC had a zero tolerance policy on bad conduct and was keen to prevent unacceptable behaviour. MONUC was determined to discipline anyone whose conduct was found to be inappropriate for a peacekeeper.

The DRC government said it was awaiting official notification. "We [are] waiting to be officially told before reacting," government spokesman and National Communication Minister Toussaint Tshilombo said.

"Aspersions have been cast on us"

The Pakistan government described the allegations as preposterous, malicious and baseless. "Aspersions have been cast on us without evidence. This is trying to tarnish our image and undermine our very strong contributions to UN peacekeeping worldwide," military spokesman Maj-Gen Waheed Arshad told reporters in the capital of Islamabad.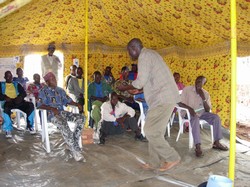 Photo: IRIN

The peacekeepers have disarmed and demobilised more than 15,000 militias in Ituri

In New York, Secretary-General Ban Ki-moon pledged to act quickly on the findings, urging member states to follow suit.

A spokesperson said the top UN envoy to the country, William Lacy Swing, requested an immediate OIOS investigation after an internal inquiry by MONUC brought the allegations to light in 2006.

"OIOS says the investigation is well advanced and expected to be completed in about three weeks," spokesperson Michele Montas told reporters. "The Secretary-General looks forward to the early completion of the investigation."

The UN has recently increased the number of blue helmets to over 17,500 and redeployed a contingent of 800 from the west to the east of the country.

Since deployment in Ituri, the peacekeepers have disarmed and demobilised more than 15,000 militia members.

Ei/re/eo/cb