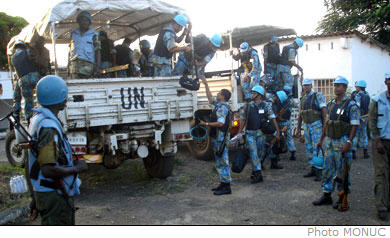 The United Nations Mission in the Democratic Republic of the Congo (MONUC) today announced that allegations that a number of its peacekeepers based in the Ituri District have engaged in gold and weapons trafficking are under investigation.
"As soon as these serious allegations surfaced and were brought to its attention in 2006, MONUC immediately requested that the matter be thoroughly investigated by the UN Office of Internal Oversight Services (OIOS)," the mission said in a statement.
"A full inquiry was initiated, independently from MONUC, by OIOS-Nairobi, in accordance with OIOS mandate to investigate instances of serious misconduct. Upon completion of its investigation," the statement added, noting that the OIOS report and recommendations, once completed would be sent to the UN Department of Peacekeeping Operations "for appropriate action with the Troops Contributing Countries of the concerned contingent personnel, in line with current UN procedures."
While noting that as a matter of policy, the UN does not comment on investigations in progress, MONUC stressed that it "has an absolute zero-tolerance policy on misconduct and will remain vigilant in preventing egregious and unacceptable behavior."
The statement said the mission in the DRC "is determined to relentlessly pursue the disciplining of anyone whose conduct is substantiated as unbecoming a peacekeeper."
At the same time, MONUC reiterated its confidence in the vast majority of its blue helmets, and voiced gratitude to the service working for peace in the DRC. In Ituri, it noted, peacekeepers have disarmed and demobilized more than 15,000 militia members.