VOA News | Published on April 12, 2007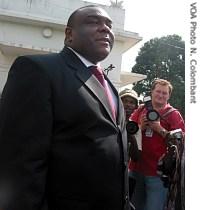 Jean-Pierre Bemba (file photo)

The Democratic Republic of Congo's top prosecutor has asked the country's Senate to lift immunity for Senator and former Vice President Jean-Pierre Bemba so he can be charged with treason.

State prosecutor Tshimanga Mukeba told VOA Thursday that if the Congolese senate accepts his request to lift the immunity, then a committee will be sent to Portugal to interview Bemba. The prosecutor says he would eventually issue an international warrant for the opposition leader's arrest.

Bemba arrived in Portugal Wednesday for medical treatment on a recently fractured leg. He had spent the past three weeks holed up in the South African embassy in Congo's capital, Kinshasa.

He took refuge there last month during clashes between his militia and government forces.

The fighting broke out after Bemba's soldiers refused to return to regular army service, saying he could not be left without protection.

Bemba finished second last year in Congo's presidential election, losing to incumbent President Joseph Kabila. He later won a seat in Congo's senate.

Portuguese authorities say they will not offer Bemba asylum, but only a short medical stay.

Bemba was a rebel commander during the DRC's civil war. That conflict left more than four million people dead, mostly from hunger and disease.

Some information for this report was provided by Reuters.