VOA News | Published on March 27, 2007
Schwarz report (Real Audio) - Download 345K


Listen to Schwarz report (Real Audio)

In the Democratic Republic of Congo, human-rights organizations say they are not reassured by President Joseph Kabila's statement that the military action that left dozens dead last week was necessary to maintain peace. They say the way to national reconciliation is open dialogue and space for a strong opposition. Naomi Schwarz has this story from VOA's regional bureau in Dakar.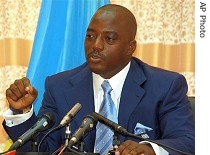 Joseph Kabila holds press conference in Kinshasa, 26 Mar 2007

In a press conference Monday, Congolese president Joseph Kabila said the situation that led to two days of violent battles was military, not political.

Mr. Kabila said it was necessary at all costs to re-establish order as quickly as possible. If you do not have peace, he said, you have nothing.

At the press conference, Mr. Kabila accused opposition leader and former Vice President Jean-Pierre Bemba of attempting to seize control of part of the capital, Kinshasa. The state has issued a warrant for Bemba's arrest, under charges of high treason and says his actions constituted a rebellion.

But some observers say the events leading to the fatal clashes are murky.

Rostin Manketa, an investigator for the Kinshasa-based human rights organization Voice for the Voiceless, said, "We are launching an independent investigation in order to clear the matter, to clear everything, on what happened, to know exactly who started, who opened fire first."

He says, whatever the investigation turns up, he is not convinced by Mr. Kabila's assertion that the problem required an immediate military response.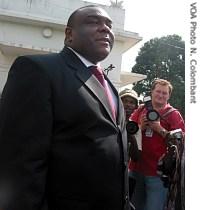 Jean-Pierre Bemba
"There is a long standing misunderstanding and conflict between the president and former vice president Jean-Pierre Bemba," he said. "So we think both of them were still keeping a misunderstanding. It was a political crisis between both leaders."
"That is why for the sake of peace, the sake of national reconciliation, I do not think that the head of state was right to resort to arms just to settle the matter," Manketa explained.
In November, Bemba came in second place in elections that were widely hailed as a crucial step toward democracy after more than four decades of civil war since independence.
Manketa says for the young democracy to move forward, the DRC's leaders need to allow opposition voices to be heard. But he says he fears Mr. Kabila is trying to consolidate his power by quashing his rivals.
Local journalist Eddy Isango says this is a fear others share.
Isango says many worry Mr. Kabila's violent reaction last week will intimidate other members of the opposition.
Bemba has said he fears for his safety. Prior to last week's incidents, he had refused to integrate his guard into the national military for this reason. He remains in the South African Embassy where he took refuge last Thursday, and says he may go into exile if he cannot be assured of his safety.