At least 35 people have been killed in clashes between security forces and opposition supporters protesting against the results of governorship polls in Congo's western-most province. The violence appeared to be the worst since President Joseph Kabila won last year's presidential election. Joe Bavier is in Kinshasa and has more for VOA.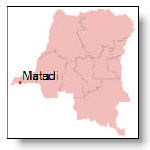 Democratic Republic of Congo

The violence began Wednesday night when police raided the home of the opposition candidate for vice-governor, Ne Muanda Nsemi, in Matadi, the capital of the province of Bas-Congo. Nsemi is the spiritual leader of Bundu dia Kongo, an anti-government ethnic-based political and religious movement.

Clashes continued through the night in Matadi, before spreading to Boma and Moanda, two other cities in Bas-Congo, Thursday.

Supporters of Nsemi and gubernatorial candidate Leonard Fuka Unzola clashed with armed police and soldiers after taking to the streets to protest against the results of governors' elections last Saturday won mostly by candidates allied with newly inaugurated President Joseph Kabila.

Nsemi and Unzola, members of defeated presidential candidate Jean-Pierre Bemba's Union of the Nation, U.N., political coalition, have filed a lawsuit denouncing the election outcome and calling for a second round poll to be held.

Mr. Kabila defeated Bemba, in what were the first free elections held in more than 40 years in the vast, former Belgian colony. The polls were intended to draw a line under a 1998 to 2003 war that killed an estimated four million Congolese, mainly from hunger and disease.

Hospital workers in Boma told VOA that 25 people including police were killed in the fighting.

United Nations' supported Radio Okapi quoted the mayor of Matadi as saying 12 people had been killed in Matadi. And more deaths were reported from Moanda on the Atlantic coast.

But reports of casualties were confused and officials from the U.N. peacekeeping force in Congo said it was too early to give a definitive death toll.

Interior Minister General Denis Kalume traveled to the province to direct efforts to control the violence.

The violence followed a verbal attack by Bemba on Kabila last week.

Bemba accused the president's Alliance of the Presidential Majority, AMP, of buying the votes of provincial assembly members to win a majority of Senate seats and governor's posts.

The AMP won seven of the nine governorships up for grabs, while Bemba's coalition won only one, in his home province of Equateur. The U.N. failed to win the governorships of Kinshasa and Bas-Congo, where Bemba has a popular following.

AMP officials have denied the corruption and vote-buying allegations, blaming a lack of cohesion within the U.N. for its failures in the Senate and governors' polls.

Mr. Kabila's allies also dominate the national parliament where they have used their majority to seize control of important commissions.

During last year's presidential and legislative elections, soldiers loyal to Bemba clashed with Mr. Kabila's presidential guard in street battles in the capital Kinshasa that killed dozens.