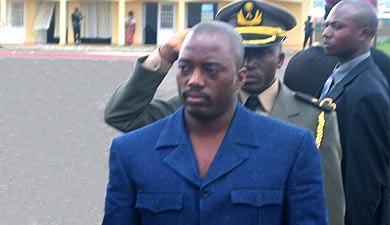 President Joseph Kabila made a surprise visit to Bukavu in South Kivu province on January 25 2007, accompanied by a team of advisers. During the visit, the President also went to the territory of Walungu, close to the exactions of the Hutu Rwandese combatants.

On Thursday January 25, the main news event was slated to be the official visit of the Belgian ambassador Johan Swinnen, who wished to assess the consolidation of democracy in the DRC, and to see how reconstruction could be given priority in the east.

The first full session of the Provincial Assembly, with the presentation of the three candidates for the post of government was also top of the news agenda.

But this was all before the surprise arrival at midday at Kavumu airport of President Kabila, accompanied by his team of advisers. The president then went immediately to the Labotte sporting facility, where he installed his headquarters in December 2005, during his first visit to South Kivu as head of state.

According to his presidential spokesperson Mr. Kudhura Kasongo, the arrival of the President is part of his periodical visits nationwide to maintain contact with the population. During an interview with Radio Okapi, Mr. Kasonngo indicated that this visit was independent of the governor elections, due on January 27.

This Friday January 26, the President met everyone as he decided to cross Bukavu on foot. Accompanied by some security guards, he passed unnoticed before he was mobbed by a big joyful crowd.
After more than two hours of walking, Mr. Kabila met the Archbishop of Bukavu, François Xavier Maroy, to keep up his work of educating the population. Later in the day he went to Walungu, one of the territories in South Kivu which is particularly affected by the exactions committed by the Hutu Rwandese combatants.

President Kabila is expected at Kisangani on Sunday January 28, where he is due to meet UN Secretary General Mr. Ban Ki- moon.