Colombant report - Download 462k


Listen to Colombant report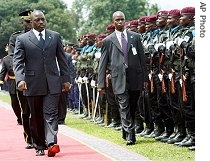 Joseph Kabila reviews the troops at the start of his inaugural ceremony at the Presidential Palace in Kinshasa, 6 Dec. 2006

Thirty-five-year-old Joseph Kabila has been sworn-in as the newly elected post-war president in the Democratic Republic of Congo. VOA's Nico Colombant reports from our West and Central Africa bureau in Dakar.
Wearing a dark suit and raising his right hand, Mr. Kabila said he would only be guided by general interest and act as a faithful servant of the people. The ceremony was held under tight security in Kinshasa.
Mr. Kabila won a five-year mandate in elections that ended a transitional period that began when he was installed by the military after his father, a former coup leader, was assassinated in 2001.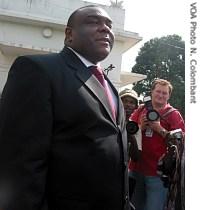 Jean-Pierre Bemba

His second-round election opponent and former rebel leader, Jean-Pierre Bemba, was not present. The country's Supreme Court rejected Bemba's complaint that the election process was marred by fraud.

International observers said there was tampering by both sides, but not enough to impact the general outcome.

Mr. Kabila won with 58 percent of the vote, dominating in the Swahili-speaking east, while Bemba got 42 percent, doing well in the Lingala-speaking west.

Recurrent street clashes marred the election process, and required the intervention of U.N. peacekeepers and a European rapid reaction force.

Mr. Kabila's early challenges will be to integrate soldiers still loyal to former war commanders and stamp out an active low-level rebellion in the east of the country, where a renegade general, Laurent Nkunda, says ethnic Tutsis are being left out of the post-war process.

Among the dignitaries at the swearing-in ceremony were South African President Thabo Mbeki and the current head of the African Union, Denis Sassou-Nguesso.

Ordinary Congolese who did not attend the festivities also paid close attention.

Clothesmaker Abeho Monga said she hoped the inauguration of an elected post-war president would mark a turning point in Congo's brutal and corrupt history.

"Our people are suffering too much since our independence," she said. "Things are very bad in our country. Before the elections, our people, our politicians, they went somewhere, they went in Lusaka, they agreed, they said let us go to elections. After elections, everybody has to respect their agreements."

Another Kinshasa resident Luc Chitera says he hopes Mr. Kabila will give room to the opposition to avoid any serious unrest. He says historically Congo's presidents have acted in a very authoritarian manner.

"If the opposition, the official opposition, feel that they do not have any power to do their jobs as opposition, I think at that time, they will be coming on local television and radio stations to denounce many things that they do not like, how the government is performing," he said.

English teacher Emery Makumeno says he hopes Mr. Kabila will set the tone for a new Congo, rather than repeat mistakes of the past.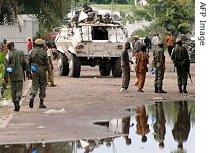 Soldiers and local people gather near a United Nations armoured vehicle in Kinshasa, 13 Nov. 2006
"There are a lot of challenges facing the country in the five years to come," he said. "The war has destroyed everything, the infrastructure, the education system, the transportation system, I think nothing here is working normally. So this first mandate, this first term will be very important. We hope that the president will make a lot of efforts to ignite a certain progress and start rebuilding the country and start rebuilding the infrastructure."
The international community paid hundreds of millions of dollars for the election process and provided security in hopes of ending chronic conflict, plundering, and bad governance that had Congo at its center, but involved the entire Great Lakes region of Africa.