Former rebel leader Jean-Pierre Bemba has conceded defeat in the presidential election in the Democratic Republic of Congo. The winner, Joseph Kabila, son of an assassinated former coup leader, will be inaugurated next week. VOA's Nico Colombant reports from Dakar.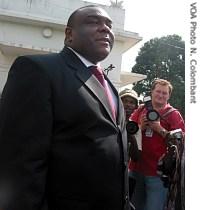 Jean-Pierre Bemba (file photo)

Bemba read out a statement on his television stations Tuesday night, saying he was disappointed with the way the country's Supreme Court handled his complaints of fraud. He says it was neither fair nor equitable. He says his complaints remain well-founded, but that in the interest of peace, he will now take up a position as a strong opposition leader.

Bemba said he would defend the legitimate interests of the Congolese people.

Final results certified by the Supreme Court Monday give Mr. Kabila 58 percent of the vote to Bemba's 42 percent.

The court said Bemba's complaints were without foundation. International observer groups said there were irregularities during the election process but not on a scale to affect the outcome.

Voting was split along geographic lines, with Bemba doing very well in the west, and dominating in the capital Kinshasa, but getting few votes in the east.

Information Minister Henri Sakanyi said he hoped Bemba was sincere. He said he also hoped Bemba would also have a message for his personal guard, so that they would reintegrate into the national army.

Clashes between Bemba's private security detail and the presidential guard left dozens dead in the streets of Kinshasa in August.

Mr. Kabila has been president since 2001. He succeeded his father, who was assassinated by his own security guards.

The international community paid hundreds of millions of dollars and provided security for an election process aimed at ending years of conflict in the large mineral-rich Congo.