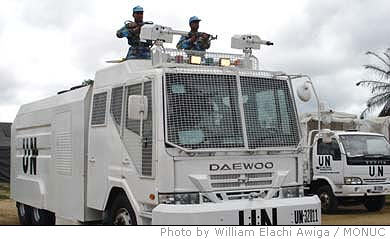 24 November 2006 ? United Nations peacekeepers in the Democratic Republic of the Congo (DRC) will support the Congolese army if needed in enforcing a 48-hour security ultimatum in the capital to remove forces loyal to the losing candidate in last month?s presidential elections, the top UN envoy to the strife-torn country has said.

The Special Representative of the Secretary-General in the DRC, William Lacy Swing, said that some 50 supporters of Vice-President Jean-Pierre Bemba have already left the capital as a result of the ultimatum imposed by the Congolese army following Tuesday?s violence in Kinshasa.

The ultimatum came a day after the Supreme Court building and police vehicles were burned during clashes between police and Mr. Bemba?s supporters over a court filing challenging the provisional results of the elections, which forecasted Mr. Bemba?s defeat by incumbent President Joseph Kabila.

?Mr. Swing said that the Congolese army, if necessary, will be backed by UN peacekeepers in enforcing the ultimatum, whose implementation is proceeding peacefully,? a UN spokesman said today in New York.

The UN Mission in the DRC (MONUC) strongly condemned this week?s violence and again called on Wednesday for all sides involved to resolve any differences peacefully.

?A lot of blood has already been spilt in this country, and the Congolese have understood and accepted that the ?hatchet must be buried.? MONUC reminds those who refuse to understand this, that protests can only be held by peaceful and legal means, through the rule of law,? MONUC spokesman Kemal Saiki said.

The elections for president, national and local assemblies, which began at the end of July and culminated with the presidential run-off on 29 October, were the first free polls in more than four decades. They were the largest and most complex elections that the UN has ever helped to organize and were aimed at cementing the vast and impoverished country?s transition to stability after a brutal six-year civil war, which cost 4 million lives through fighting and attendant hunger and disease. Factional fighting has remained a problem since the end of the war, especially in the east.

In another development in the DRC, Mr. Saiki said today that a UN human rights team had found a mass grave in an army camp in eastern Ituri district holding around 30 bodies, including women and children, adding that the military prosecutor is investigating and two soldiers have been arrested.

In addition to its peacekeeping role, MONUC inaugurated a gardening project this week to help the capital?s street children, who are often accused of sorcery and maltreated by society. The project will help pay for the children?s schooling, food and other needs, the mission said, adding it is one of over 200 similar initiatives completed over the past few years aimed at improving the lives of the most depressed sectors of society.