Jean-Pierre Bemba, the loser of Congo's presidential election said Thursday he will use all legal means to fight the results - a signal that the former rebel leader does not intend to use the force of hundreds of armed troops at his disposal.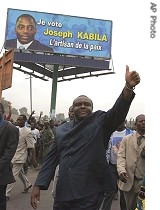 Jean-Pierre Bemba gestures at his supporters

Nearly 24 hours after current President Joseph Kabila claimed victory with a 16 percent margin, his rival Jean-Pierre Bemba announced he would launch a legal appeal to challenge the results.

Bemba said the Independent Election Commssion's results did not reflect the true will of the Congolese people, alleging cheating during the vote count.

But international election observers with the Carter Center have said the elections were carried out with transparency and ruled out any wide-scale fraud.

A number of world bodies have already recognized Joseph Kabila as the winner and offered him congratulations.

Mr. Kabila in his acceptance speech Wednesday night called for national unity and reconciliation. Much of the east supported Mr. Kabila, while voters in the capital Kinshasa widely favored his challenger.

Authorities in Kinshasa have struggled to keep control over the country over the last decade. Millions died during the country's civil war between 1998 and 2003.

The international community has hoped the country's first democratic elections in over four decades will stabilize the country. The world's largest U.N. peacekeeping force - 17,000-strong - is in DR Congo, tasked with ensuring security.